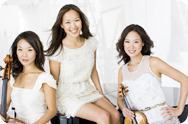 Born in South Korea and raised in New York, the three Ahn sisters Angella (violin) and twins Lucia (piano) and Maria (cello) have established themselves in the past ten years as a piano trio that is innovative and at the same time firmly rooted in tradition.
With numerous prizes and awards to their credit, the New York ensemble has brought a fresh breeze into the chamber music scene with their Classical repertoire enriched by its open approach to composers of contemporary and popular music. The trio's regular collaboration with composers such as Kenji Bunch, Maurice Jarre, Nicolai Kapustin, Pat Metheny and Michael Nyman has been steadily widening the relatively limited repertoire for piano trio, without losing their musical seriousness or drifting into all too shallow waters.
The Ahn Trio is always ready to surmount hurdles between the individual art forms, as can be seen from their previous project with dancers, installations artists, DJs, photographers and light designers. Recently, the three sisters premiered Kenji Bunch's composition "Swing Shift" together with the Parsons Dance Company of New York.